Farscape: The Illustrated Season 4 Companion was a reference book put out in 2002 as a guide to Season 4 of Farscape.
From the back cover
[
]
The Official Season 4 Companion!
Daring. Groundbreaking. Mind-frelling original. Farscape has deservedly built up a legion of fans around the world, drawn to its unique mix of strong characters, roller-coaster story arcs and the most impressive special effects on television.
Here's the inside story of Farscape's unforgettable fourth year. Compiled with total access to the show's cast and crew, this official companion is packed with exclusive interviews and photos, a definitive episode guide and even a Foreword from Crichton himself, Ben Browder! Also inside are Afterwords from executive producer David Kemper and series creator Rockne S. O'Bannon, and an intriguing look at the future of Farscape...
Contents
[
]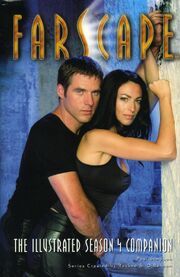 Foreword (by Ben Browder)
Into Season Four
The Episodes
Script to Screen
The Characters
The Effects

The Creature Shop
Production Design

Into The Future
Afterword (by David Kemper
The Last Word (by Rockne S. O'Bannon)
The Lexicon