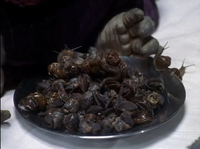 Marjools were a snail-like animal that was a favorite of Rygel's.
At the diner owned by Voodi and Essk, their specialty dish were marjools. ("I-Yensch, You-Yensch")
According to Zerrit, the really good marjools don't come from Hyneria, as it's just propaganda by the Dominars. In fact the best marjools come from Prypryt.
Appearance
[
]