m

Line 21:
Line 21:
 

[[Image:Farscape 1C.jpg|right|250px|thumb|Cover C]]

 

[[Image:Farscape 1C.jpg|right|250px|thumb|Cover C]]

 

[[Image:Farscape 1 Challenger Limited.jpg|right|250px|thumb|Challenger Comics Limited Edition Cover]]

 

[[Image:Farscape 1 Challenger Limited.jpg|right|250px|thumb|Challenger Comics Limited Edition Cover]]

 
+

[[Image:No1 2nd Print.jpg|right|250px|thumb|2nd Printing]]

 
+

[[Image:No 1 3rd Print.jpg|right|250px|thumb|3rd Printin]]

 

==Publisher's Summary==

 

==Publisher's Summary==

 

''TV's Sci Fi masterpiece FARSCAPE returns! Farscape creator Rockne O'Bannon continues his creation in comic book form right where the Peacekeeper Wars left off! Find out what's in store for John Crichton, Aeryn Sun, Rygel, Chiana, and the rest of the Moya crew! Do the comics tie into Sci-Fi Channel's upcoming webisodes? You know it, 'Scapers! Don't frelling miss this!''

 

''TV's Sci Fi masterpiece FARSCAPE returns! Farscape creator Rockne O'Bannon continues his creation in comic book form right where the Peacekeeper Wars left off! Find out what's in store for John Crichton, Aeryn Sun, Rygel, Chiana, and the rest of the Moya crew! Do the comics tie into Sci-Fi Channel's upcoming webisodes? You know it, 'Scapers! Don't frelling miss this!''

Line 101:
Line 103:
 

*[http://terrafirmascapers.com/index.php/topic,26762.25.html Title revealed]

 

*[http://terrafirmascapers.com/index.php/topic,26762.25.html Title revealed]

 

*[http://splashpage.mtv.com/2008/12/04/exclusive-preview-farscape-creator-rockne-obannon-brings-series-back-as-a-comic-book/ Preview]

 

*[http://splashpage.mtv.com/2008/12/04/exclusive-preview-farscape-creator-rockne-obannon-brings-series-back-as-a-comic-book/ Preview]

 
+

[[Category:Comics]]

−
 
 
⚫
−
 
−
 
⚫
 
---
Revision as of 22:04, 14 May 2009
This article is covers the first issue of the Farscape comic book. For John Crichton's module, see Farscape-1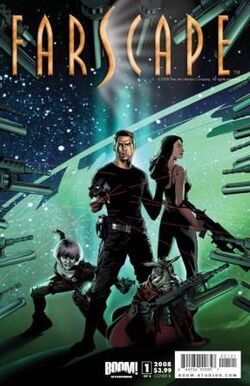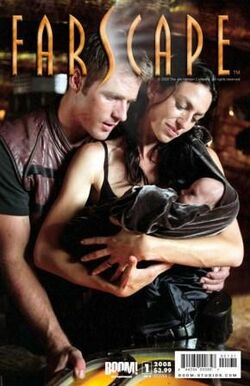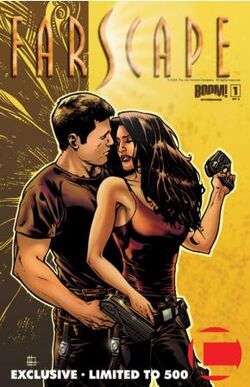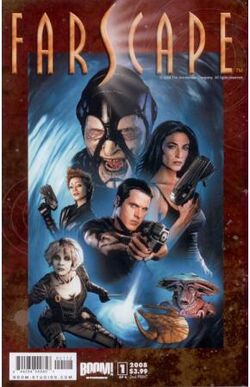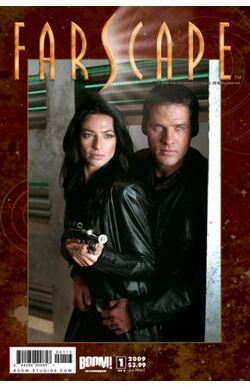 Publisher's Summary
TV's Sci Fi masterpiece FARSCAPE returns! Farscape creator Rockne O'Bannon continues his creation in comic book form right where the Peacekeeper Wars left off! Find out what's in store for John Crichton, Aeryn Sun, Rygel, Chiana, and the rest of the Moya crew! Do the comics tie into Sci-Fi Channel's upcoming webisodes? You know it, 'Scapers! Don't frelling miss this!
Summary
Appearances
Characters
Creatures
Locations
Organizations and titles
Sentient species
Vehicles and vessels
Weapons and technology
Miscellaneous
External Links
Community content is available under
CC-BY-SA
unless otherwise noted.