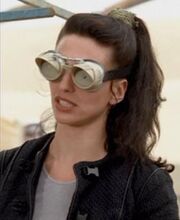 Sundance was an alias given to Aeryn Sun by John Crichton during their time on the planet Dam-Ba-Da. This was part of a ruse by Crichton to fool the bounty hunters Rorf and Rorg by posing as a fellow bounty hunter with Aeryn as his female, a part "Sundance" was more than reluctant to play. ("Till the Blood Runs Clear")
"Sundance" as well as Crichton's alias "Butch" is a reference to

Butch Cassidy and the Sundance Kid

.