You may be looking for the story in the Tangled Roots mini-series, "Undercover of the Night".
Undercover of the Night is the second issue of the third side arc and miniseries of the Farscape comic series centered around Ka D'Argo.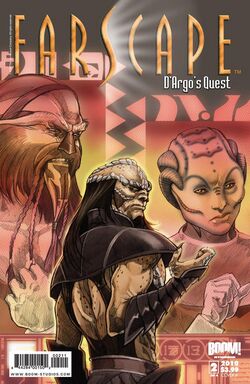 Publisher's Summary
[
]
D'Argo has seen war, his family ripped apart and a host of horrors aboard Moya. Now he faces his greatest challenge of all. He must work with Raxil! The motormouth of a drug dealer is now forced to be D'Argo's aide as he tracks down his greatest prey of all! Written by FARSCAPE's Keith R.A. DeCandido and Executive Produced by show creator Rockne S. O'Bannon.
Appearances
[
]
Characters
[
]
Locations
[
]
Organizations and Titles
[
]
Sentient Species
[
]
Vehicles and Vessels
[
]
Weapons and Technology
[
]
Miscellaneous
[
]